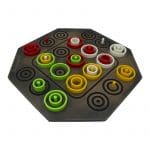 Trios Style Tic Tac Toe Board Game
Or as low as
R

64.84
/ month interest-free
, using your existing credit card. For orders over
R

2,000.00.
How it works
Trios Style Tic Tac Toe Board Game. It is a 2 to 4 player game with each player having 3 sets of rings their colour.
A simple, yet strategic game for the whole family. Ideal for kids.
Pay over 3 EQUAL zero-interest instalments of R129.67 with PayJustNow.
Find out how...
PayJustNow is a simple, easy-to-use payment system.
Here's how it works:
PayJustNow allows you to pay for your purchase over 3 equal, zero interest instalments. You'll pay one instalment at the time of purchase, the next at the beginning of the following month and the last one a month thereafter.
#zerointerest
Step 1:
Browse your favourite online stores and proceed to check-out.
Step 2:
Choose PayJustNow as your payment method.
Step 3:
Create your account as easily as if your eyes were shut (though we'd recommend you keep them open).
Step 4:
Complete your purchase and whoop for joy!
A valid RSA ID document
To be over 18 years old
An email address
A SA Bank issued debit or credit card
Description
Additional information
Reviews (0)
Description
What is Trios board game?
Trios is an edgier, more complex take on the classic tic tac toe board game. There are three different ways for you to win: three same-sized pieces in a row like in the traditional game; three different-sized pieces in ascending or descending order; or three concentric pieces in the same space. Winning combinations must be same colour.
How to Play
Place all 36 game pieces in the outermost spaces on the board, with the like colour pieces placed next to each other.
2 PLAYERS
Each player selects two colours that are opposite to each other on the board. You can win with either of your colours, but colours cannot be combined for a win. The youngest player goes first and play proceeds clockwise. Players take turns placing their pieces, one per turn, into the centre area.
3-4 PLAYERS
Each player selects a colour. If only three are playing, one colour is not used in the game. The youngest player goes first and play proceeds clockwise. Players take turns placing their pieces, one per turn, into the centre area.
Each set has a small, a medium, and a large ring. Players take turns placing any of their rings on any vacant location on the board. Each board location has a small, medium and large ring that can be placed there. Players continue placing rings on the board until a player has a winning combination or until the board fills up and no winner. In a 2 player game, each player has 2 sets of colours and alternates the colours per play. But, winning combinations must be same colour. Once a piece is placed, it cannot be moved. If you cannot play a piece, you skip a turn.
Be the first one to get three of your pieces in a row in one of three ways:
The winning combinations are:
3 rings the same colour and size in a row (tic tac toe style) vertically, horizontally and diagonally .
Or 3 rings same colour at same board location.
Or 3 rings same colour in ascending /descending order (small, medium large or large medium small).

Dimensions
Packing dimensions: 41cm x 41cm x 4cm
Package Weight: 1.2kg
Board Game size: 40cm x 42cm x 1cm
What's in the box
36 x game pieces (9 pieces x 4 different colours)
1 x playing board
Additional information
| | |
| --- | --- |
| Weight | 1.2 kg |
| Dimensions | 41 × 41 × 4 cm |
---
Only logged in customers who have purchased this product may leave a review.